FOR IMMEDIATE RELEASE
Dalal Akoury's Latest Book Is a Guide to Weight Management, Embracing a Lifestyle of Health and Confidence
JOHNSON CITY, TN, November 13, 2023 / AWAREmed Health and Wellness Resource Center /
From the acclaimed founder of AWAREmed Health and Wellness Resource Center, Dr. Dalal Akoury, M.D., comes a transformative book titled "Your Ultimate Weight Loss Journey: Shed & Shine - The Skinny & Sexy Guide". This publication is more than just a book; it is a passage to a healthier life, reflecting Dr. Akoury's nearly four decades of medical experience and compassionate care.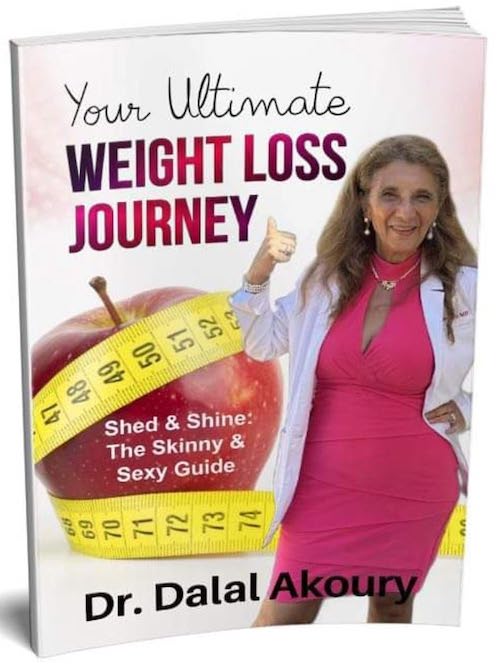 What's the buzz? Patients from all corners of the globe have experienced the unique WHOLE-istic treatment protocol at AWAREmed, where traditional, modern, integrative, and holistic medical methods converge. Dr. Akoury's approach is not just about shedding weight but about embracing a lifestyle that radiates health and confidence.
Why this book? This guide is an extension of the clinic's philosophy, offering readers the same expert advice and treatment plans that have been successful for patients seeking help at AWAREmed.
Availability: "Your Ultimate Weight Loss Journey" is now available on Amazon, free for Kindle Unlimited members. This is an opportunity for readers to embark on a journey to reclaim their health and vitality under the guidance of a globally recognized leader in integrative medicine.
Dr. Akoury and her team await to support your health journey with their expertise and heartfelt care.
For more information:
Embark on your path to wellness and embrace the journey of weight loss that shines with health and confidence with Dr. Akoury's new book, available now.
About Dr. Dalal Akoury
Dr. Dalal Akoury is leading a health revolution—revolving around using food as medicine to support longevity, energy, mental clarity, happiness, and so much more. Dr. Akoury is a practicing Advanced Integrative Medicine physician and an internationally recognized leader, speaker, educator, and advocate in the field of Integrative Medicine. As an internationally known author, Speaker, and Healthcare consultant she gave more than 200 presentations worldwide.
She interviewed many Celebrities including Dr. Mehmet Oz, Oprah, Al Pacino, Mark Wahlberg, Calvin Klein, Vince Vaughn, Stedman Graham, Michael Douglas, 50 Cent, Jillian Michaels, Charlie Sheen, Brooke Shields and many more. Dr. Dalal Akoury has also created Healthcare Franchises including AWAREmed-Express, AWAREmed-360, and AWAREmed Mobile. She is the founder of the HealPreneur Magazine, and Your Health is Wealth TV show. She appeared on many National and International magazine covers and television programs. She is a frequent guest expert on podcasts, radio talk, TV news and talk shows, with more than 60 appearances on ABC, CBS, and FOX. She is also widely recognized as a wealth & business coach helping to reform, educate, enlighten, and improve healthcare, Wellness, and Healing Business to thrive and grow.
Dr. Akoury is not only living proof of the benefits of stress relief, diet, and exercise, but she is also a world-renowned medical expert who can guide audiences in understanding the fundamentals behind proper stress relief, nutrition, and living well. Dr. Dalal Akoury has turned her passion for Functional Medicine, real food, nutrition, and wellness into activism, working to change our food system on a global scale. Her mission is to help change lives.