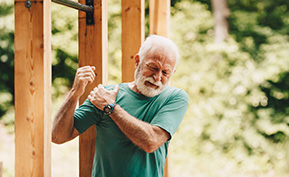 Addiction-Free Pain Management
Pain management refers to the process through which we reduce or control pain in our bodies.
One of the common methods of doing this has been prescribed medication. While this method has proven to work well to some extent, in some cases it may result in addiction to the drug prescribed. If this happens, it makes it impossible for the patient to stay without taking the drugs since once one fails to take them pain returns and is only reduced or ends once the drugs are taken. This is a common case when opioids are used for pain treatment.
How do we curb this problem then? Just as the saying goes, if you don't repair a crack, you may end up building the whole wall.
The best way to prevent addiction from drugs while trying to cure pain is by ensuring that the treatment that you use is effective and has no history of addiction when used. This type of treatment that doesn't lead you to addiction is the one we call addiction-free pain treatment / management.
Which are the Addiction-free pain management methods?
Many effective treatments of pain methods that are addiction-free will try to avoid using prescription drugs or at least ensure they used a drug whose history doesn't indicate signs of addiction. Let's look at some methods which have proven to be effective in the management of pain and leaving the patient addiction-free.
---
Prolozone Pain Therapy
What is Prolozone Therapy?
Prolozone is a form of muscular-skeletal and joint pain treatment technique. It uses the power of oxygen to cause the damaged tissues, ligaments, joints, and even tendons to regenerate. This method of treatment causes complete healing and permanent pain relief.
How does Prolozone Therapy work?
Before we even look at the technique used by prolozone to heal, it is important to remember the fact that most pains we experience in our daily life originate from injuries. These injuries may or not be physical. For permanent pain relief to be realized, we must start by treating the injury itself and ensure it heals as well.
For a damaged part of the body to regenerate and heal, it must have the critical elements necessary that only the blood can provide. These elements are: – Vitamins, minerals, and oxygen. Of the three, by far the most important of them all is oxygen.
Prolozone works in three ways;
What happens after this treatment?
First, injection of homeopathic anti-inflammatory medication is done to prevent or reduce inflammation and swelling. This will increase circulation.
The second thing is to treat the area with vitamins that are critical for healing to occur.
Finally, the area is infiltrated with oxygen in the form of ozone.
The result of the treatment is that the tissues get what they need to heal, and consequently heal. Important to note is that circulation to the area is also established and therefore the treatment is complete.
Which are some of the conditions which can be treated with Prolozone?
The following are some of the conditions which can effectively be treated with ozone:
Torn tendons
Neuromas
Heel spurs
Sports injury
Sciatica
TMJ syndrome
Degenerated or herniated and many other conditions.
Can this treatment be addictive?
Not at all. We must note that this is a therapeutic treatment and thus it doesn't use drug prescription which would in some cases result in addiction. The good thing also about this treatment over the other pain-killing treatments is that it does not only kill the pain but also produces permanent healing of any injured area.
---
NEURAL THERAPY
This is another addiction-free treatment of pain that involves the treatment of the autonomic nervous system. The autonomic system is the most fundamental system in our bodies and works as the control system. This system is responsible for controlling important body functions such as blood circulation, body temperatures, breathing, heart rate, etc.
How does it work?
Neural therapy works by using procaine injections to restore and heal stressed out and injured nerves, so as to ensure they work normally, and in so doing, they sent the proper nerve impulses to the tissues and body organs that they innervate.
---
NAD+ TREATMENT
It refers to Nicotinamide Adenine Dinucleotide which is a metabolic co-enzyme that continuously varies between NAD and NADH compounds in the body. Our bodies have two classes of enzymes, digestive and metabolic enzymes. Since healing requires structuring, repair, and modeling of every cell, metabolic enzymes become important since they do all those. Replenishment of these enzymes is important since they normally have a workload. NAD plays an important role in the production of ATP, which is the energy molecule in the body and has over 100 metabolic functions in our human chemistry.
Is NAD+ therapy safe?
Yes. NAD+ therapy is a safe, natural supplement of cellular energy and also a generator of the same. It may also help to act as a potent antioxidant and free radical scavenger Phagocytes use NADPH as a source of energy to destroy pathogens. It also increases mental clarity and alertness when applied to a given patient.
---
PAIN NEUTRALIZATION TECHNIQUE (PNT)
This is one of the pain relief therapies which has proven to work effectively. It is a non-pharmacological, non-invasive technique for pain neutralization.
How does it work?
This technique works through gentle manipulation of tissue by altering the nerve-based reflexes which a known to perpetuate trigger points and muscle pain. It is a very friendly method since it doesn't use pressure like some of the other methods for treating trigger points and it instead uses finger massage of the points.
---
MAGNESIUM TREATMENT FOR PAIN RELIEF
Magnesium is one of the known treatments of pain, which has proven effective and addiction-free. Magnesium is known to relax muscles and hence it uses this principle to relieve pain.
A remarkable principle in the mechanism of magnesium treatment is that of excessive stimulation of a brain chemical known as 'NMDA.'
One of the advantages of magnesium as a treatment substance is that it is readily available since it can be found in supplement form at most health food stores.
Request Your Appointment Today!
To request your appointment, please call (423) 430-6170 or contact us online today!
---
Our Location